Welcome to the Liberty Hill Panthers HCYFL Page!
The Future Liberty Hill Panthers are represented by Liberty Hill Youth Football and Cheer (LHYFC). LHYFC is 100% dedicated to teaching our youth the Liberty Hill system in all aspects of the game. LHYFC fully supports the LHISD coaches and will remain current with the middle school and high school system as taught and prescribed by its coaches.
It is LHYFC's mission to be the pipeline that produces young players that are ready to run the system when they enter the 7th grade. Participating youth players will have a tremendous advantage when entering Liberty Hill Middle School or Santa Rita Middle school with real experience in the LHISD System.
For more information, visit our webpage at www.lhyfc.com or email LaJoy Amthor at LHYFC.secretary@gmail.com.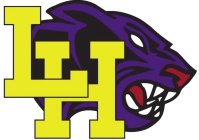 FIELD LOCATION:
Liberty Hill Elementary Football Stadium
1400 Loop 332
Liberty Hill, TX 78642
Admission: $2 per Adult


Contact:
President: Hunter LeMaster 512-762-7550
LHYFC.pres@gmail.com
Vice President: Josh Stroup 512-851-6965
LHYFC.vp@gmail.com
Officials Travel Fee: FGM $40